First Annual Trash Walk a Success
Rain and wind didn't dampen the enthusiasm of walkers and runners who participated in the first annual 5K Trash Walk on May 14 to raise funds for the Charlotte Area Recycling Authority.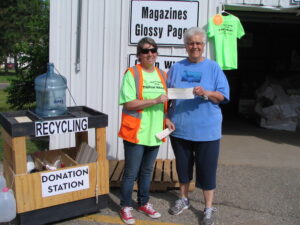 Among the group were three people representing First Congregational. Our members contributed almost $300 to this cause. In addition, our Outreach Board voted to donate another $100 (see picture). The event raised over $2,000. In spite of the weather, it was fun. Business sponsors provided T-shirts, food and water. Pictures will be posted on the CARA Facebook page.
Many of us in the Charlotte area, including our church, have used the recycling center on Hall St. for years. It would be a shame to lose this local outlet and its direct benefit to the environment. CARA does not receive funding from the city. The scrap metal market price has declined sharply and they face limited options for plastics…two factors in their revenue. A Friends of Charlotte Area Recycling group is being started. Volunteers are also needed at the center to help people unload their cars and to help sort items in the sheds. For more information, please see their web site or call Quinn at (517) 213-1266.
Thank you to all who supported this event and recycling.