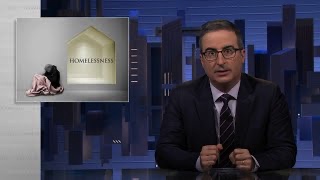 November Movie: Homelessness
John Oliver's news reports "Last Week Tonight" focus on individual topics for each episode, going in depth on a topic in a way that regular news reports don't.  For our November movie, we will show two episodes (25 minutes each): one on the rising costs of rent nationally, and one specifically about homelessness.
In his irreverent and comedic manner, Jon goes right to the heart of a serious issue.  (Note: Jon sprinkles "f-bombs" throughout his language.  If his news reports were rated, they would probably be rated "R" for language.)
Joining us will be Tracey Socey, volunteer coordinator from Siren/Eaton Shelter.  She'll talk with us about the homeless situation in our own community.